For over 35 years, HEATCON has manufactured hot bonding technology. Over this time, we have perfected our manufacturing capabilities to provide a hot bonder that is durable, reliable, and able to perform localized repairs by applying heat and positive pressure. Our commitment towards improving composite repair systems is unrivaled in our industry, and with our expertise, we find creative solutions to address composite repair challenges. One example is our HCS9300NW Network Controller. This unit is the culmination of our signature product, the hot bonder, and years of additional research and development. This powerful tool was designed to manage hot bonders for large area applications and give facilities the ability to configure numerous hot bonders to accomplish complex repair situations.
Industry Demand:
Multiple-zone cures are especially challenging when dealing with greater repair areas and irregular shaped parts. At times, these variables create pockets of complex temperature control requirements, and therefore, even heat distribution is significant to retain. Without many types of equipment that can accomplish these types of repair, our teams were tasked with finding a solution to meet the maintenance needs of complex structures.
Although our flagship products have proven to cover a variety of composite repair applications, complex scenarios need additional coordination. Therefore, our experts designed a network method to monitor and control temperature and pressure conditions over considerable sized damaged areas. This unit allows facilities to utilize the existing fleet of Heatcon hot bonders in a facility by linking several hot bonders to operate in unison. This solution allowed for minimal purchase of additional machinery and provided efficiency by using existing equipment.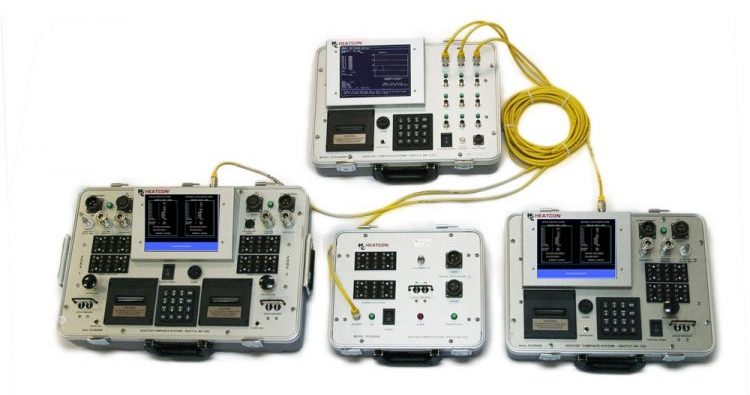 Solution:  Synchronizing Hot Bonders
The primary function of the Network Controller, HCS9300NW, is to connect and synchronize hot bonders for multi-zone composite repairs. This method is key to the performance of large area applications because combinations of hot bonders provide more power sources. In this way, repairs can be performed that are greater than 1,400 square inches, which is the maximum area for single zone hot bonders. In addition, the cure cycle can be coordinated in complex sections and independently regulated to appropriate temperatures.
As the central source for programming cures, the Network Controller is able to direct up to 16 zones. When assigned to a single repair, all zones will send data to the Network Controller, which records and interprets the information. The controller will adjust conditions within each zone by sending out specific cure commands. This ensures that all of the units are always synchronized within the same program and is essential when working together on complex repairs.
About the Design: Excellent Partner with Heatcon Hot Bonders
The network controller is reliant on a connection to a HEATCON hot bonder or a node bonder (HCS9300Z). While it cannot operate on its own, the design elements of the controller make it an excellent partner. Unlike bulky systems, this tool is light and able to be carried by hand. When transported with hot bonders, heat blankets, and other accessories, it is possible to set up an entire multi-zone composite repair system wherever needed. As an additional benefit, the interface is built upon familiar hot bonder software, so individuals that are experienced with HEATCON products will require little additional training. By contributing to ease of use, these characteristics make the network controller a practical solution that compliments hot bonder capabilities.
Solving your Composite Repair Challenges:
The Network Controller was designed to expand the capabilities of your previously owned hot bonders in order to give you a versatile method of repair. This system's flexible nature allows it to be transported and reconfigured in various network setups to meet the needs of specific scenarios.
We are committed to assessing your personal needs and provide the best equipment for the job. If you would like more information on how our Network Controller can be adapted to your repair facility, please email us at info@heatcon.com or visit us at www.heatcon.com.
For the HCS9300NW Network Controller product page, click here.