Heat Blanket Testing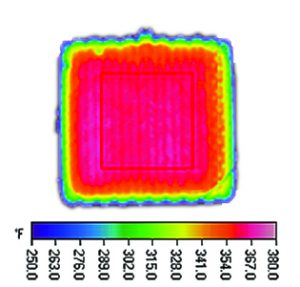 The quality of a repair can, in many cases, be traced back to the quality of the cure. A heat blanket that provides temperature uniformity over the entire surface is a key step in the repair process to have a favorable result.
Thermal mapping is becoming the quality standard for many maintenance facilities. The Commercial Aircraft Composite Repair Committee (CACRC) refers to SAE Document ARP 5144 Section 7, which states specific recommendations for the handling, maintenance, and thermal testing of heat blankets.
At HEATCON, our testing follows the recommendations of the SAE Document ARP 5144. We are also authorized and formally recognized as a delegated supplier of Thermal Uniformity Testing qualified per Appendix A of Boeing Specification D6-56273.
This additional quality process can be specified for most of your silicone rubber heat blankets at an additional charge and includes the following services:
Supply of heat blankets that are pre-qualified
Qualification and re-qualification services for HEATCON heat blankets