If you glanced at the picture above, you may have noticed our HEATCON logo prominently stamped on the interior of an eight-foot-diameter door. When operated, that door seals off a massive vacuum chamber capable of repairing engine cowlings and thrust reversers.
That seven-ton behemoth is our RepairClave. Similar to the logo that it bears, there is no denying its boldness.
At HEATCON, WE ARE BOLD.
For over 35 years, we have boldly pursued industry advancements in hopes of solving the composite repair challenges of the modern world.  When the composite repair industry asked for an economical alternative to the autoclave, we answered with our patented RepairClave HCS3100.
Industry Demand:
The aerospace industry has been driven by those daring enough to improve upon current methods of composite repair. For example, the adoption of the autoclave for industrial purposes proved to be revolutionary. For the first time, a part with large-area damage could be strengthened to nearly manufacturing quality condition. This method is able to satisfy most composite repair needs but is heavily reliant on elaborate support systems. In order to integrate this technology, a repair facility must make a large infrastructure and capital investment, which may be out of reach for them. As a result, we were inspired to find a practical solution with equivalent repair capabilities  of an autoclave.
Solution:
A RepairClave has the ability to complete large area, high-pressure repairs that are comparable in quality of an autoclave.
How is it possible for a product to have that level of efficiency?
The RepairClave uses a direct heat source to target a part's damaged area. In contrast to an autoclave, this method eliminates many nonessential components. As a result, the RepairClave avoids heating up an entire chamber, which saves on operational costs and accidental part damages caused from heat exposure on the full surface of the part.
To operate, a part is conventionally vacuum bagged and is then inserted into the RepairClave. The RepairClave uses a pressurized vessel to accomplish a composite repair and features many of the same technologies that can be found in our hot bonders. The built-in bonder system controls localized heat with the use of a standard heat blanket. The repair is then performed like a typical hot bonder cure. Having the pressurized vessel allows additional pressure to be applied to the repair process, which drives down porosity and ensures maximum contact between the patch and sub-structure. The efficiency of the RepairClave allows it to maintain a lean design without compromising performance.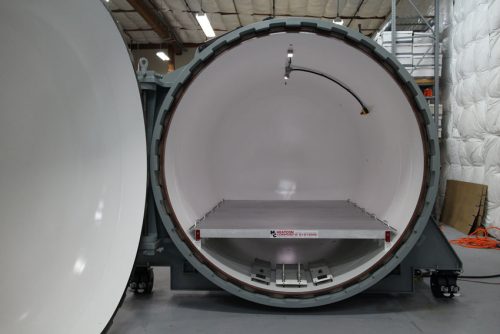 About the Design:
The main design concept of the RepairClave is to keep it practical and simple in functionality.  This unit combines four main functions; (1) controlled temperature, (2) vacuum, (3) pressure, and (4) localized heat. In focusing on the main functions, we've produced an alternative apparatus to the autoclave. It has significantly fewer operational components, is semi-portable, and weighs less than conventional autoclaves. In addition, the software interface is similar to Heatcon hot bonders, so technicians who are familiar with our equipment require minimal training to operate the RepairClave. These design elements allow the RepairClave to tackle complex composite repairs.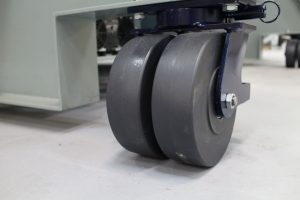 Solving your Composite Repair Challenges:
As experts in our industry, HEATCON possesses the capability to customize your RepairClave to include repair applications for helicopter blades, thrust reversers, cowling, flaps, ailerons, or any part requiring positive external pressure. For those seeking a high-pressure composite repair system with lower capital investment, the RepairClave is the innovative solution that you have been looking for!
We are committed to assessing your personal needs and provide the best equipment for the job. If you would like more information on our RepairClave or other products, please email us at info@heatcon.com or visit us at www.heatcon.com to learn more.